Taurus PT92
[[File:|250px|]]
Statistics
Country of Origin
Brazil
Weapon Type
Semi-Automatic Pistol
Caliber
9×19mm Parabellum
Magazine Capacity
17 Round Magazine
Manufacturer
Taurus
Service Length
1983-Present
The Taurus PT92 is a semi-automatic pistol designed and developed by Brazilian manufacturer named Taurus. It is based on the Beretta 92FS produced by the Italian manufacturer Beretta.
Back in the early 80s, Brazil contracted Beretta to produce the Beretta 92 for the Brazilian military. It's then that the factories were later sold to Taurus who started manufacturing a pistol based on the Beretta 92FS due to the fact that the patent for the original weapon has long since expired.
Rocket JumpEdit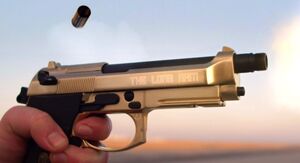 Rocket Jump is known to have the use of airsoft variations of the Taurus PT92 as well as airsoft versions of the Beretta 92FS.
Video Game High SchoolEdit
In season one of Video Game High School, the antagonist player known as The Law is seen carrying a gold plated version of the Taurus PT92 named "The Long Arm". He later loses it when he is disarmed by BrianD when he kills him in the season finale.
By the end of the second season, Law has replaced the use of his Taurus PT92 for the use of dual gold plated Colt M1911A1 pistols.